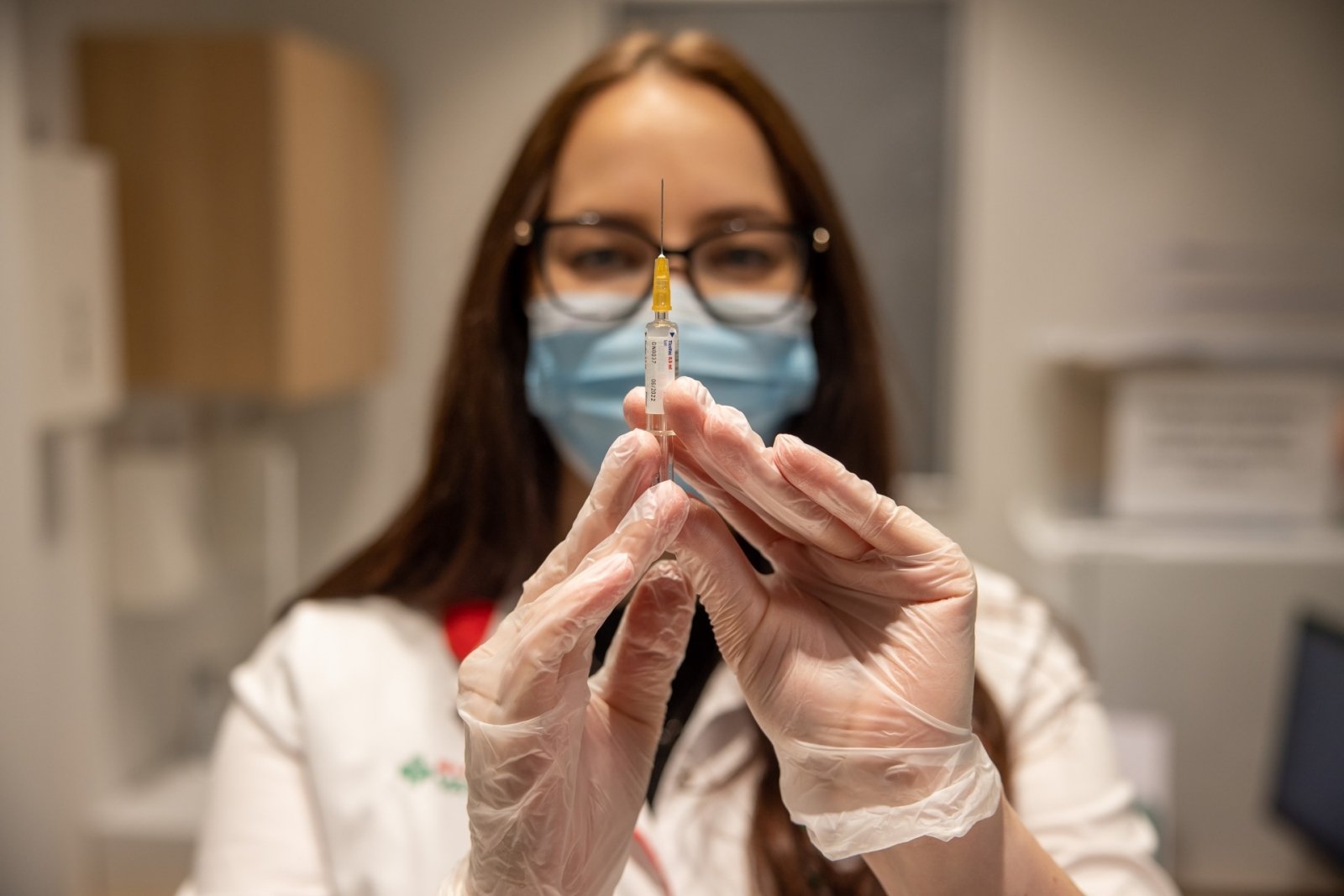 A network of pharmacies with ten flu vaccine stores currently accepts all adults. Pharmacies vaccinate 120 pharmacists. "We anticipate that the vaccine will take up to 20 minutes. This is the time during which the health professional talks about the well-being, the vaccine, the possible side effects. After the vaccination, patients are asked to stay for 15 minutes, "Laura Bielskė, Head of Communications at the Pharmacy Network, told the media about the vaccination process.
According to her, the first group of influenza vaccine, Influvac Tetra, has now arrived in pharmacies. This vaccine complies with the recommendations of the WHO (World Health Organization) for the Northern Hemisphere and the EU regulation for the 2021/2022 season. It is tetravalent, which means it protects against 4 strains of the flu virus and the complications they cause. Another tetravalent Vaxigrip Tetra vaccine will be available online in the second half of September.
Pharmacist Jovita Aleknienė says customers are already consulting about the flu vaccine. "We emphasize to the population that the COVID-19 vaccine does not protect against influenza, it is another virus, so an influenza vaccine is needed against it." While the coronavirus pandemic is ongoing, it is important to beware of other diseases as each disease weakens the immune system, making us more vulnerable to the flu, "warns the pharmacist.
The flu is caused by high fever, chills, bone fractures, headaches. When the flu vaccine starts in the early fall, pharmacists are calling for protection against the disease, which can have very serious complications and even lead to pneumonia.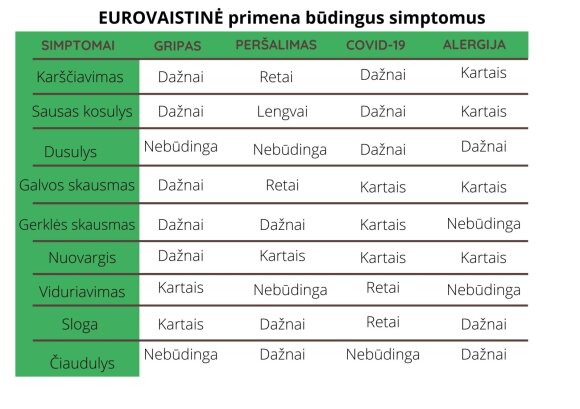 Symptoms of the flu
© Photo by Eurovaistinė
By vaccinating, we also protect those around us, those who, for various reasons, cannot be vaccinated against the flu. Elderly, children, and individuals with chronic illnesses are often at the highest risk of influenza. By also avoiding the flu, we protect the overall health system without overburdening it.
Usual effective personal protective equipment for the protection of the flu – frequent hand washing, spot ventilation, keeping a distance. It is also important to pay attention to your immune system, be physically active, eat healthy and balanced foods. It is important to stay home if you experience symptoms of a cold or flu.
Pharmacists remind you that you can be vaccinated against the flu two weeks after receiving COVID-19 or any other vaccine.
"Wellness clinics" where vaccinations can be given:
Alytus:
Santaikos g. 34G,
Kaunas:
Savanoriu PR. 255,
Karaliaus Mindaugo ave. 49-1,
Klaipeda:
Taikos ave. 61
Panevezys:
Ukmergės st. 23,
Shiauliai:
Tilžės st. 44,
Vilnius:
Ozo g. 25 (PC Acropolis, single entrance),
Ozo g. 25 (PC Acropolis, 5 entrance),
Gedimino ave. 18, Vilnius,
Ukmergės st. 282, Vilnius
It is strictly forbidden to use the information published by DELFI on other websites, in the media or elsewhere, or to distribute our material in any form without consent, and if consent has been obtained, it is necessary to indicate DELFI as the source.